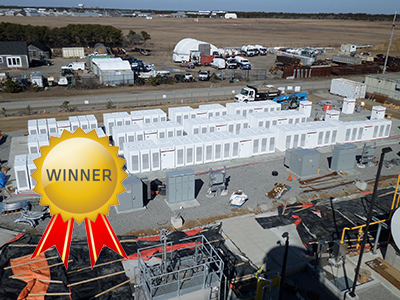 Project Description
Rated Power: 6,000 kW
Rated Capacity: 48,000 kWh
Technology Type: Electrochemical
Company: National Grid
Powered by: Tesla Energy
Services Provided: 
We were faced with a challenge on how best to provide reliable service to Nantucket, about 30 miles off Massachusetts's coast. The island experiences increased electricity demand during the summers and has some of the highest electricity growth in the northeast US. Served by two undersea cables and a small on-island back-up diesel generator. The existing on-island generation reached the end of life and the capacity is insufficient to meet the electricity needs. Traditional solutions included building a third undersea cable or increasing the diesel generation. Both options had several negatives, with the cable increasing the costs to serve significantly to a small subset of customers and the diesel increasing environmental emissions. Our solution was to move forward with an energy storage system on the island coupled with a smaller generation upgrade. In effect, we are significantly reducing the costs to reliably serve the island and decreasing the amount of emissions from diesel generation. This solution is innovative because it meets our customers evolving energy needs, while helping Massachusetts meet its state energy goals to advance energy storage within the state. This project will also be the largest deployment of energy storage in the northeast US.
Project Hashtag: #NATGRID_ESNA